Nanoil's Root Lifter for Hair – No More Flat Strands!
Flatness, lack of volume, limp-looking hair, struggles to add at least subtle fluffiness? This problem affects over 60% of women! Most of us have either fine hair which is easily weighed down, oily, losing volume fast or thick, heavy strands which are extremely hard to style. Does it sound familiar? Stop teasing the hair or overusing hairspray to lift the roots – you have Nanoil Hair Volume Enhancer!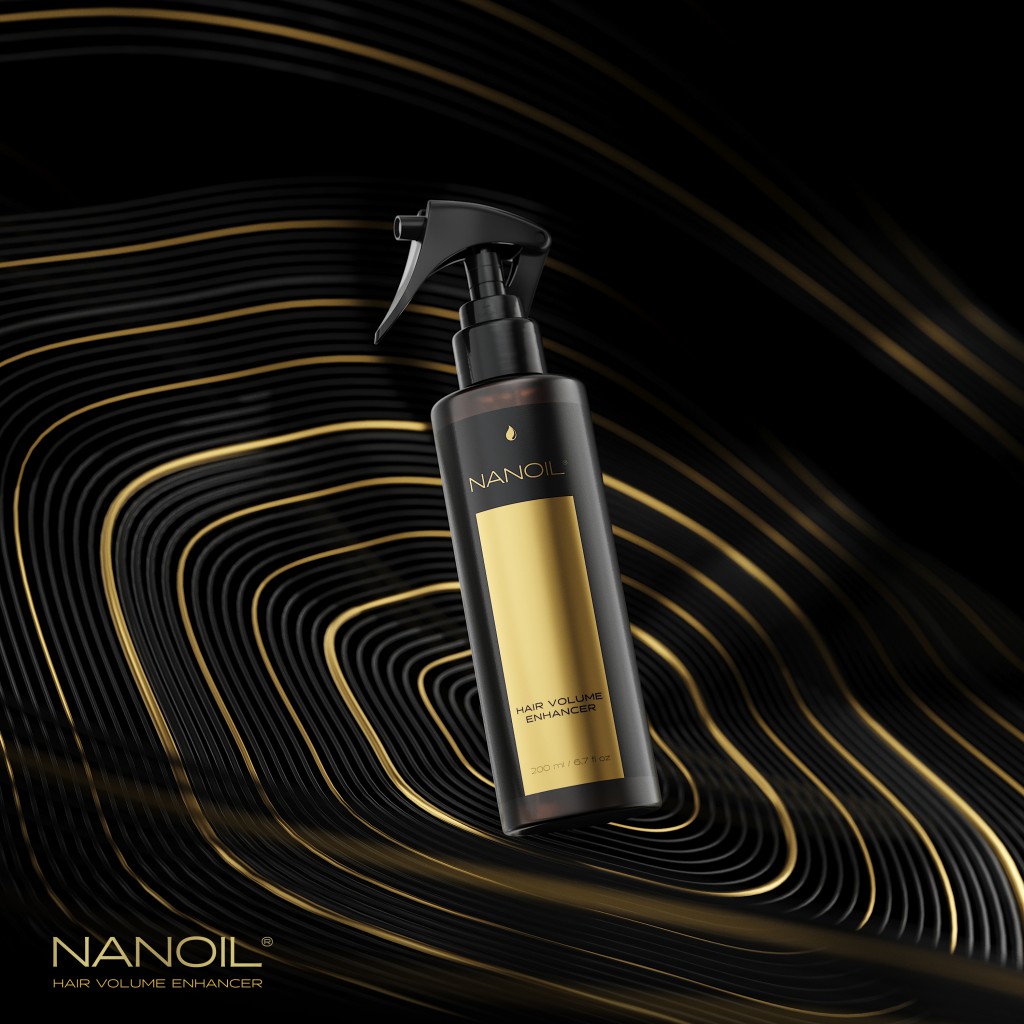 What is Nanoil Hair Volume Enhancer?
Saying it's a root lifter wouldn't do it justice. This product doesn't only make hair super easy to style and create a large-sized volume – Nanoil Hair Volume Enhancer also guarantees perfect protection, flexible hold and deep nourishing because it holds substances which strengthen and beautify even extremely thin, delicate hair. There are tons of styling primers on the market but there's just one which excels – Nanoil Hair Volume Enhancer acts as a styling mousse, hairspray for hold, and a protective hair conditioner!
How do you use Nanoil Hair Volume Enhancer?
You'll be pleasantly surprised by how simple the recipe for amazing hair volume is! Nanoil Hair Volume Enhancer is used on wet hair (washed or dampened e.g. with flower water). Spray it on roots and lengths. Comb the hair and style as usual. Done! Your hair will be easier to style, more fluffy and voluminous – the effect you've alway dreamt of. Like you just left a salon!
Nanoil Hair Volume Enhancer – ingredients which deeply nourish the hair
I don't know of any other styling primer which is rich in so many nutrients. They're worth listing because their performance guarantees strength and beauty of hair.
Keratin – a highly-beneficial protein which delivers smoothness and gloss, as well as fixes damaged cuticles. Deficiency of keratin proteins raises the cuticle scales leading to hair damage and split ends.
Panthenol – keeps water molecules in hair, eases detangling, halts splitting of hair ends, smooths the cuticle, makes hair appear thicker, effectively guards from mechanical damage, plus restores shine, bounce and softness.
Wheat proteins – powerful nourishing substances which encourage hair repair and have a strengthening effect.
Vitamin B3 – promotes synthesis of collagen, improves health of hair, acts as an antioxidant and intensively moisturizes the hair.
Vitamin E – another potent antioxidant which has an antiaging effect, nourishes and adds vitality.
A full set of nutrients, light texture, non-overburdening effect, and fabulous, airy volume without unnatural stiffness. You can buy Nanoil's root lifter on www.nanoil.us – check out all items including products for hair care and styling. Convenient home delivery is available.