Experts Recommend: Moisturizing Day And Night Ghasel Face Moisturiser
Experts Recommend: Moisturizing Day And Night Ghasel Face Moisturiser
Skin care routine for dry skin can be really tricky. How to provide it with the necessary hydration? Experts recommend Ghasel ultra-hydrating face moisturiser with Maltese honey, suitable for dry, oily or combination skin.
Every skin needs a good moisturiser
Dry, oily, acne-prone, mature or couperose skin – all skin types needs hydration. Humectants – substances that transport and deliver moisture deep into the skin are resposible for maintaining the right levels of hydration. Honey is the most popular one. Ghasel offers the most renowned honey in the world with the highest concentration of thyme pollen of any honey in the world: Maltese honey is the way to get:
well-moisturized and non-patchy skin,
silky smooth skin, free of dryness,
supple and firmer skin,
reduced acne and couperose problems.
Maltese Honey Face Moisturiser – the best moisturizing face cream.
It's time to decide whether you want to provide your skin with everything it needs. Hydration is the foundation of skin care, especially since as we age, the amount of collagen and elastin decreases and the skin starts sagging. The higher the level of hydration, the greater the suppleness and smoothness.
You can prevent sagging, aging and condition your skin by using the best moisturizing face cream with excellent ingredients, free of silicones, parabens, petroleum derivatives and GMOs. You can find it in the Ghasel range of honey cosmetics, a brand focusing on natural, simple and effective skin care.
Maltese Honey Face Moisturiser – ingredients and effects.
The moisturiser comes in a 50 ml jar. The face cream has a velvety texture, and a huge moisturizing potential, thanks to the combination of excellent skin care ingredients.
The main ingredient of the formula is the already mentioned, unique Maltese honey. Its particles easily penetrate and reach the deepest layers of the skin. The Maltese honey also contains a range of vitamins and minerals important for skin care like: vitamins A, E, D, B1, B2, B6, C, calcium, phosphorus, magnesium, sodium, potassium, iron, copper, zinc, manganese, silicon and selenium. The result is 100% hydration and nourishment of the skin. However, moisturizing action is not the only property of this rich face cream. With regular use, the moisturiser quickly and effectively:
improves hydration levels,
created a protective shield on the skin,
prevents moisture loss,
improves suppleness,
reduces wrinkles,
ensures a radiant look,
maintain a youthful and radiant look.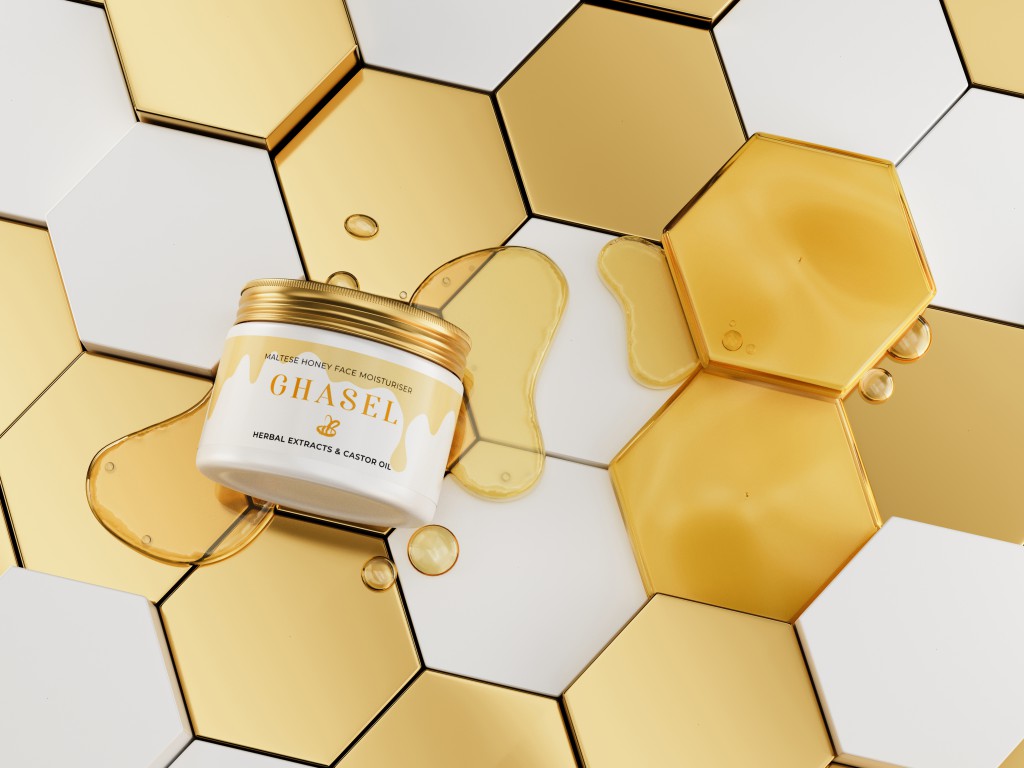 How to order and use Ghasel Face Moisturiser?
You already know it's worth the hype and its price! However, where to buy this unique face moisturiser? Visit ghasel.mt. Discover the excellent Maltese honey-based cosmetics to add variety to your daily skin care routine. It's recommended to use Maltese Honey Face Moisturiser in combination with honey-based soothing face toner and moisturizing face cleanser.
---