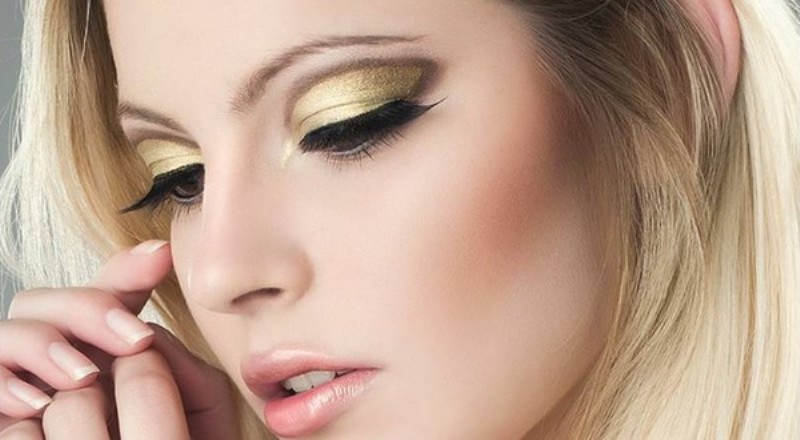 Slightly highlighted eyes, sharp eyeliner, dimmed eyelids. These are only a few examples of this season's make-up trends. If you want to by trende and feel beautiful learn how to do your make-up like a pro.
Highlighted eyes
Concealer applied under eyes and a light shade of an eyeshadow or eyeliner in the inner corners. Such trick will visually enlarge your look, brighten your skin and make your face look more radiant and younger. How to do such make-up? First of all, make sure to cover up dark under eye circles with a concealer. Then, using a white or nude eyeshadow or eye pencil, emphasize the inner corners of your eyes. Remember to even out your skin tone and conceal all imperfections. Use eyeshadows matched to the colour of your iris. You can choose from matte or shimmery finishes with a hint of gold or grey.
Winged eye
The autumn-winter 2016-2017 is a season of variations when it comes to the eyeliner. You can draw your inspiration from catwalks. Double winged eyeliner, lines applied with a soft pencil and smudged over the eyelids are the biggest hits. Use a black cosmetic along the lash line and then with a shimmery eyeliner draw your winged line. Do not forget to use mascara and thoroughly brush your eyelashes. Additionally, use a foundation of high coverage and set it with a powder.
Lip and eye make-up
Black line on the eye and a dark pink lipstick. This is the latest trend this season. Therefore, replace your red, black and brown lipsticks with the pink ones. Such cosmetic will emphasize the shape of your lips and make you look beautiful and elegant. If you want, you can use two shades of lipstick and create a three-dimensional effect called ombre. It is very popular method that suits all outfits and occasions. Now comes the time for eye make-up. draw a black line Along the lash line and use a good quality mascara.
Smoky eyes
Smoky eye make-up is very elegant. Surely, each of you knows how to create it. In the inner corners of your eyes apply the lightest shadow of your palette and on the opposite side of the eyelids – use a cosmetic in the darkest shade. In the middle, apply a medium colour and blend everything well to erase any lines between products. For your waterline use a pencil in bright nude colour and add a short black line on the edge of the eyelid. Apply two layers of your favourite mascara.