Eyebrows make-up with Essence – Little Eyebrow Monsters Collection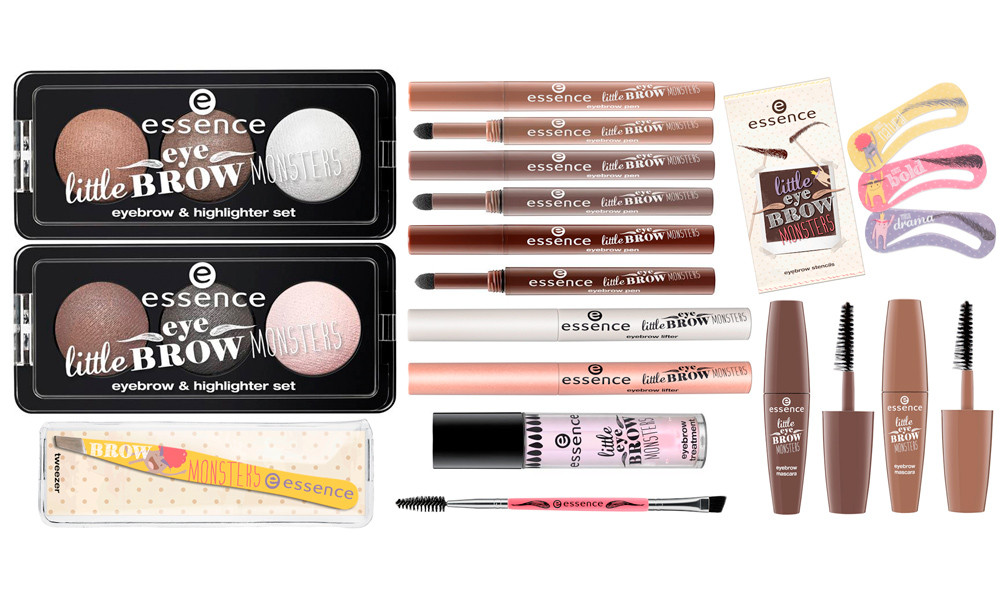 Essence is a German brand famous for its affordable cosmetics with a quality equal to well-known cosmetic companies. Eye shadow base I Love Stage and their transparent powder are already an iconic products. The brand is known for its curious and beautifully made seasonal collections. To the most popular we count in, e.g. I Love Nude collection, where you can find stunning shades of lipsticks in calm, neutral colours. Another popular collection is Love Letters with grey and coral tones, which holds great set of stamps for nails.
The newest seasonal collection from Essence is Little Eyebrow Monsters – edition focused on cosmetics for eyebrows make-up.
The collection contains all that is necessary for full eyebrow make-up – from cosmetics, through conditioner to accessories for conditioning.
Particular attention should be paid to eyebrow mascara – very subtle, but durable, has two shades (for blondes and for ladies with dark colour of hair and eyebrows). Mascara has small spiral, which not only helps obtain desired eyebrows shape, but also provides them with subtle colour. The shades of the mascara are called in a funny way: it is because they relate to the characters of the Sesame street (or rather their eyebrows); it depends on us whether we choose version a'la Bert (Bert Knows Better), or more expressive (Ernie Knows Best). True hit of the collection is powder eyebrow pen with three shades. This product is equipped with sponge applicator, which easily can apply the colour on the eyebrows. Furthermore, quite an interesting cosmetic is eyebrow lifter that you should apply beneath the brow ridge. It will allow optical lift of eyebrows and more radiant look. Make-up artists use highlighter in pink shade for brow ridge and white – for inner eye corners.
Brilliant cosmetics for eyebrow stylisation are palettes with highlighter and two pressed eyebrow shades. These are creamy, highly pigmented and do not flake during application. Colours can be mixed to in order to obtain colour identical as the colour of eyebrows.
Essence holds everything what's essential for beautiful eyebrows in a perfect shape. That's some great collection, Essence!